Start by grilling or roasting the tomatoes and jalapeños. I like to cook the tomatoes and jalapeños in a grill basket for ease and to prevent the skins from sticking to the grill. I cook them on high heat/flame so the skins get nice and dark.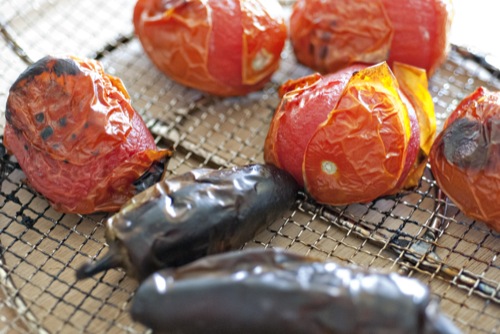 This recipe is very simple. All you do is add the ingredients to a food processor. It is important however, to pay attention to the order you add them in to control the chunkiness of the salsa. Here is the order I use:
Pulse garlic and lime juice in food processor.
Rough chop roasted tomatoes and jalapeños. Add to food processor and pulse. NOTE: Remove jalapeño seeds if you do not want hot salsa.
Rough chop raw tomatoes and onion. Lightly pulse in food processor until desired chunkiness.
Add cilantro and salt and pulse one final time.