The first step is to roast the garlic, and this takes a good hour, so make sure you either do this earlier in the day or at least before you start anything else.
Chop the potatoes, keeping the skin on, into small chunks about 1/2-1″ thick. Put to the side.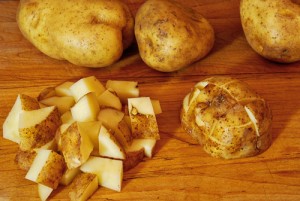 To prepare the leeks, chop off the root ends. Then chop off the greener top stalks.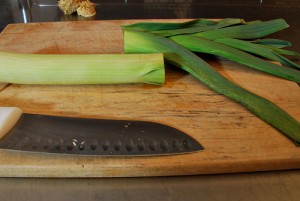 I like to chop the leeks first, and then soak them to get out the sand. Mom on the other hand, she's a little more anal. She likes to scrub the leeks before AND after they're chopped. Whatever you have time for or prefer.
Chop the leeks in even rings.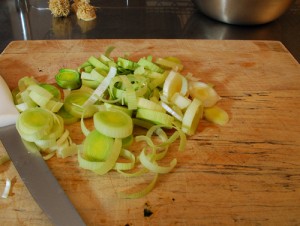 Put them all in a bowl of water and agitate, separating the rings to get all the sand out. Strain out the water, and repeat if you like. Leeks tend to be fairly sandy. Put the leeks to the side.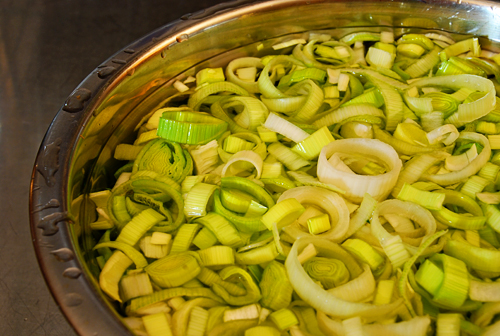 Roughly chop the parsley and set aside.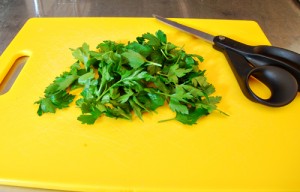 Place a tbsp of olive oil in either a skillet, or roasting/soup pan and heat it up. We use dutch oven so we can keep all the ingredients in one pan and not lose ANY flavor.
Once the oil is hot (medium heat), put the ham steak in and brown on each side. You don't want to burn the ham steak, just brown each side and reserve some of the fat in the pan.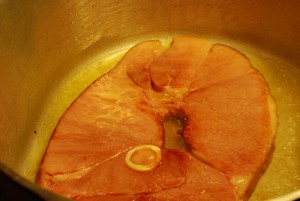 Once the ham steak is cooked, take it out and put it to the side to cool a bit. De-glaze your pan with the white wine and scrape up the ham bits to incorporate into the mixture.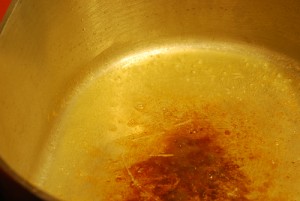 Then add the leaks and coat with a little olive oil.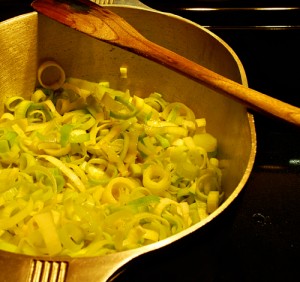 Chop the ham steak and return it to the pan with the leeks.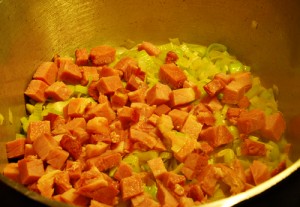 Add the potatoes, chicken stock, and water.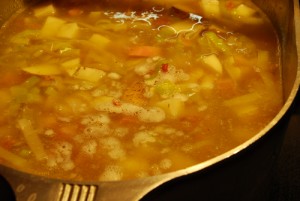 Turn the heat up to high and simmer the soup for 20 minutes. Add the roasted garlic paste.
Continue to simmer for another 15-20 minutes, or until the potatoes are soft.
Take the soup off the heat and mash together with a stick blender. If you don't have this magical appliance, you can use a potato masher or a slotted spoon…OR you could buy a stick blender below…
Add the chopped parsley as a garnish, and enjoy! MMMM.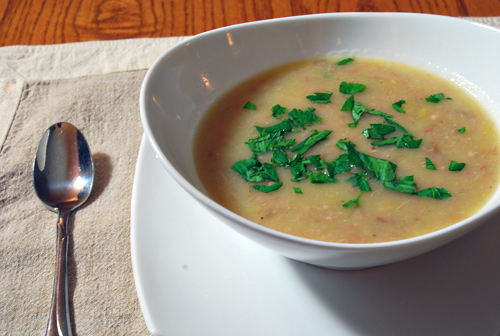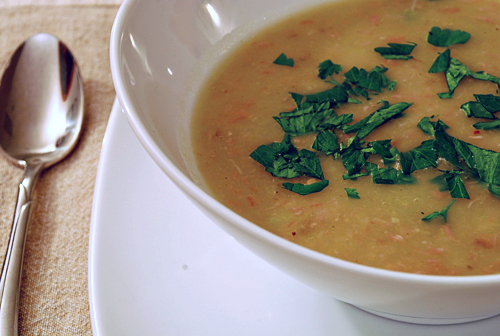 Delicious!!