First off, measure out the 1 cup of rice…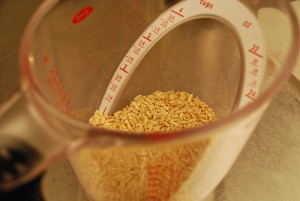 and 2 cups water and put it in a small pot. One cup of rice seems small, but remember, rice bulks up significantly with the water! General rule of thumb- 1 part rice, 2 parts water. Sprinkle in pinch of salt and a pat of butter. I don't use rice with a shorter cooking time (minute rice, I think it's called?) so it takes about an hour. Cook to your package cooking instructions.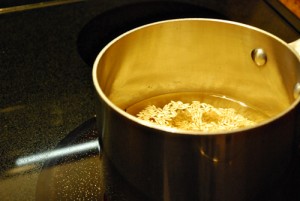 Next, chop up all the delicious veggies. I really love the flavor added by the celery and mushrooms.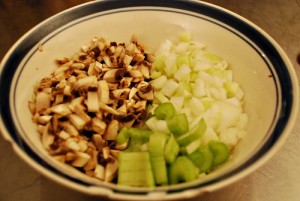 You can cut the chicken before or after you prepare the stuffing, or better yet, have someone else cut it while you are sauteing the vegetables! Take a VERY sharp knife (and be very careful- watch those fingers) and cut the breasts in half lengthwise.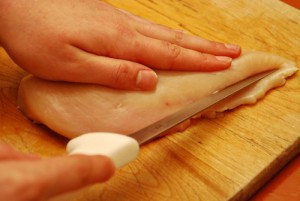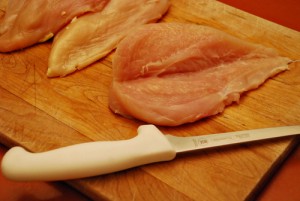 Next, add the vegetables to the skillet with some olive oil and the chopped garlic.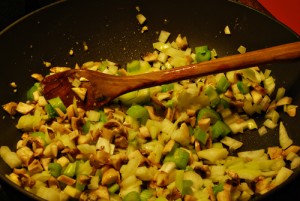 Saute until the celery is softened, but not mushy.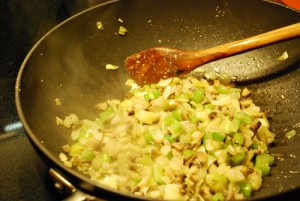 Add the sausage and break it up as it cooks.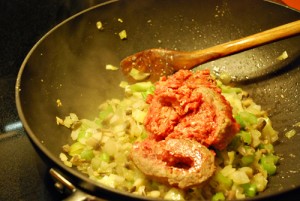 Cook until the sausage is no longer pink.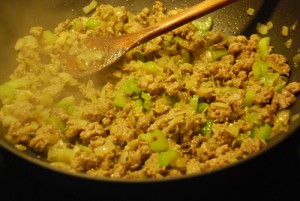 Once the rice is finished (all the water is absorbed), add the rice to the veggies in the skillet and mix together. I like to melt 1/8 cup of butter and mix it in.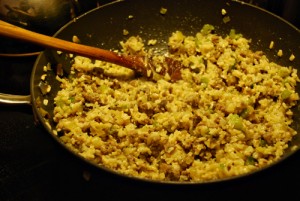 Spoon the stuffing onto the open chicken breast.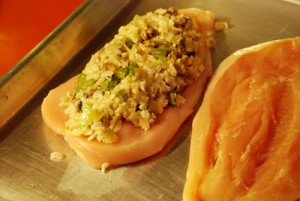 Fold the chicken half over and pin with toothpicks or skewers. Drizzle some more melted butter on top of the chicken and then sprinkle with breadcrumbs and thyme.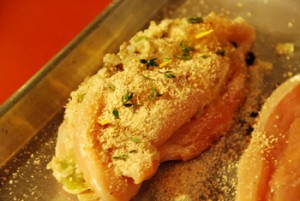 Bake in the oven on 350 until the chicken is no longer pink in the center and the juice runs out clear. (About 15-20 minutes depending on your oven.)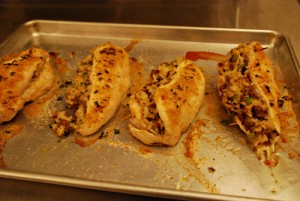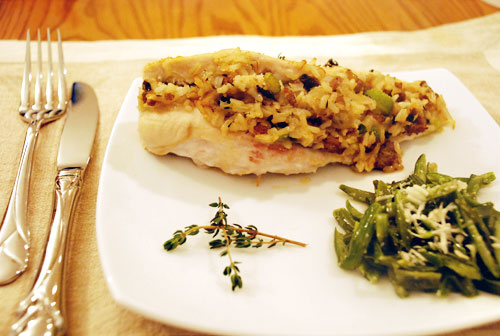 MMMM Enjoy. It's good. I promise!