Posted by Jessie on November 16, 2008
This delicious and incredibly tasty breakfast (or brunch, or dinner) is really fairly simple once you get the hang of cooking them in the skillet (or if you happen to have one, a crepe pan). The great thing about crepes is you can stuff them full of anything: maple syrup, whipped cream, fruit, peanut butter, eagle brand milk (sweetened condensed milk…mmmm), nuts, caramel, ice cream and the list goes on.
Ingredients
1 1/2 cups Flour
2 tbsp Sugar
2 tbsp Vanilla or Almond extract
2 cups Milk
2 tbsp Melted Butter for crepes
5-7 tbsp melted butter, to grease pan
3 Eggs
For Chocolate Crepes: Substitute 1/2 cup of flour for 1/2 cup of cocoa powder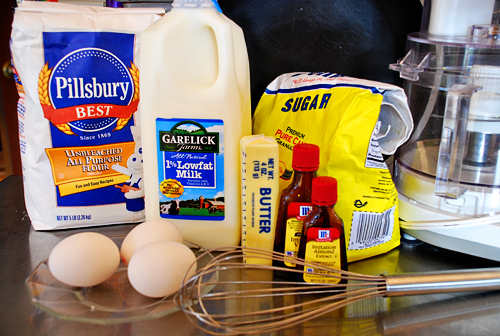 Method
Mix together the eggs, milk and extract in a bowl. Sift in the flour and melted butter, mixing until there are no clumps.
Wipe pan with a paper towel soaked in melted butter. When it is hot, ladle in enough batter to cover the pan, quickly swirling the pan to spread the batter.
Flip when the edges become crispy.
Serve with chocolate, jams, syrups, whipped cream, peanut butter, etc.
Mix together the eggs, milk and vanilla (or almond) extract in a bowl. (If you are in a hurry, you can just combine all ingredients in the food processor). In the picture below, I made two batters, the right is vanilla, the left is almond.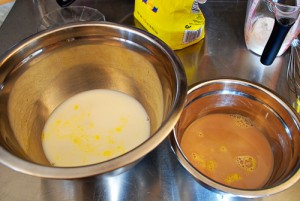 Sift in the flour.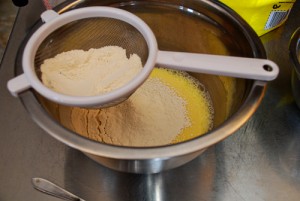 Then add the sugar and melted butter. Whisk thoroughly so there are no clumps of flour.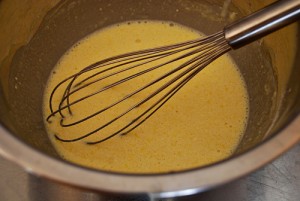 Now, take the 5-7 tbsp of melted butter, and with a paper towel, grease the bottom of your round pan and let it heat up (Medium heat).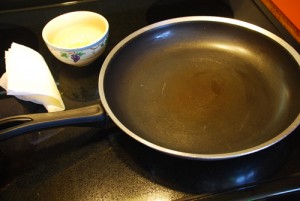 The first crepe is usually a test one – you want to make sure the heat is right, not too hot to burn. You also want to get the right amount in your ladle so you can fill the pan completely, but not too much or the crepe will be more like a pancake.
When you ladle the batter in the pan, pick the pan up with one hand, and pour the batter in close to the pan with the other. Still holding the pan, tilt it around to cover the entire bottom. Check out the video tutorial below:
You'll know they're ready to flip when the edges stiffen and the center bubbles.
Don't worry if they aren't perfect, they'll taste perfect!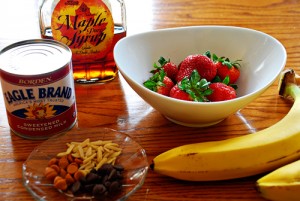 We like to fill our crepes with fresh whipped cream, chopped fruit (strawberries, bananas, mixed berries), nuts, chocolate, maple syrup and even some sweetened condensed milk- it's a milky creamy sugary syrup that's used to make flan and custard. Just open a can and spread some on.
You can fold the crepes up like a burrito (like below) or fold them in quarters and stack them, or just crumple them up and stuff them in your mouth. 🙂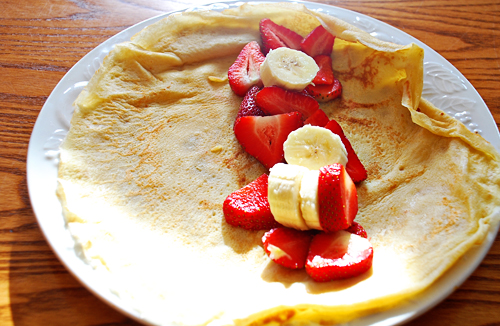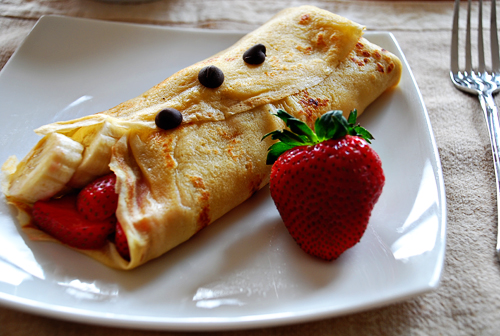 Happy Eating!